MANAGED IT SERVICES FOR CREDIT UNIONS
As the financial industry migrates from paper to screens, credit unions and other financial institutions must find a way to smooth the digitization process without compromising security or compliance. In this digital-heavy environment, effective IT management takes a full-time team of experts to ensure seamless functionality.
DC Plus's Total Care managed IT services for credit unions offer financial institutions access to our expert teams and advanced resources, allowing them to allocate more resources to core functionality and client relations. With DC Plus, credit unions and other institutions can comfortably rely on always-on IT, careful security and compliance, seamless IT integration and attentive customer support.
Compliance: We help your financial institution stay compliant with relevant policies and regulations, and we'll assist in the event of an audit.
Security: We ensure ongoing data security with firewall licensing, monitoring, maintenance and renewal, as well as vulnerability and risk assessments, email encryption and spam filtering.
Seamless Functionality: We help you design and implement processes that streamline financial operations and service, including system documentation, workflow automation and Office 365.
Backup Storage and Software: We make sure you never lose data through secure off-site storage, backup software licensing, backup and restore validation testing for data and servers and more.
Ongoing Reliable Support: We monitor your solutions 24/7 to identify and address issues proactively. We'll be your point of contact for advice, troubleshooting support and vendor management, and we'll send an expert on-site when needed.
Smart Savings: On top of optimizing resource allocation and boosting productivity, we'll also help your institution save through discounts on hardware and fixed IT support costs.
What's Included:
Audit assistance.

Compliance best practices.

Email encryption and spam filtering.

24/7 remote monitoring services.

Remote and on-site labor as needed.

Consulting services.

Vendor management.

Guaranteed response times as outlined in SLA.

Ticketing system and workflow automation.

Remote access capabilities.

Server imaging.

Backup software licensing.

500 GB of secure off-site storage and data backup licensing.

Data backup and restore validation testing.

Server backup and restore validation testing.

Firewall UTM licensing and service renewal.

Firewall monitoring, maintenance and change requests.

Vulnerability and risk assessment.

Office 365 with Exchange Online.

Printer management.

System documentation.

Hardware purchase discounts.

Fixed IT support costs.
DC Plus's Total Care managed IT services for credit unions address your financial institution's needs as a whole and coordinate management to relieve your teams of IT support burdens. Further, we ensure your IT systems are scalable to accommodate your institution as it grows, and we continually optimize solutions, systems and costs to meet your dynamic needs.
To learn more about how your credit union can optimize its IT solutions, download our free guide, IT Compliance Action Plan for Credit Unions.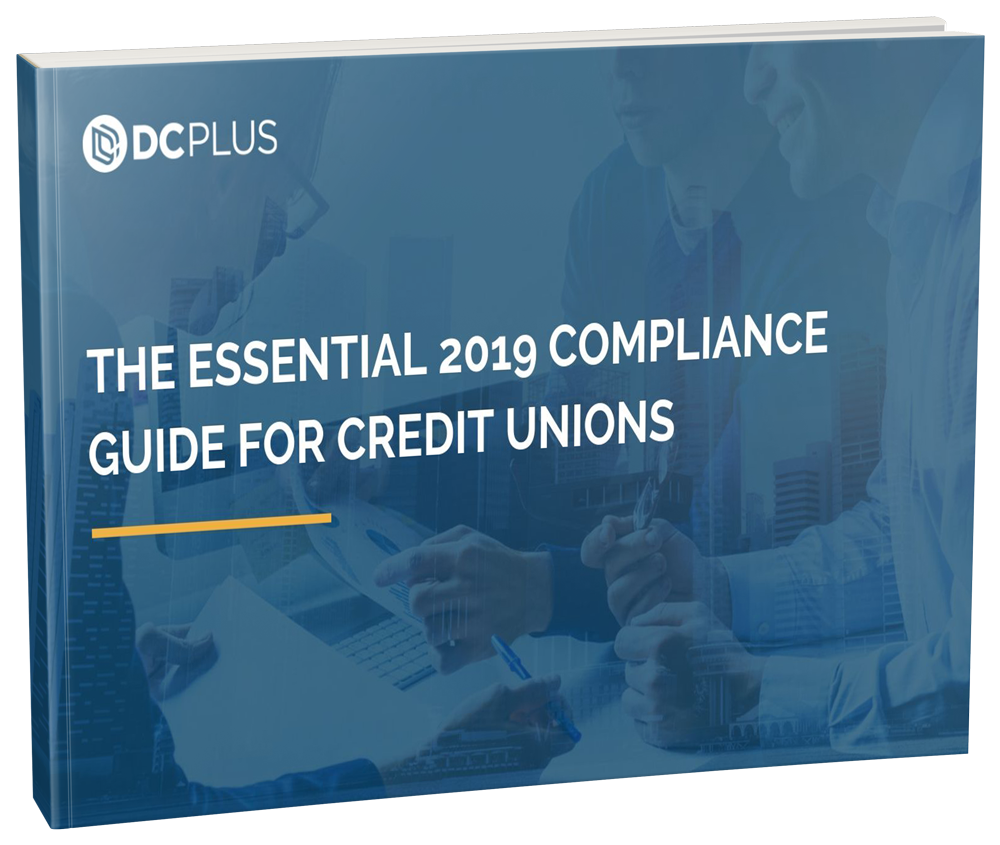 The Essential 2019 NAFCU Compliance Guide for Credit Unions
Download your Essential 2019 Compliance Guide for Credit Unions for a comprehensive toolkit for establishing and maintaining IT security compliance, including the five critical steps of IT security best practice.